The exhibition space consists of 3 halls with a total area of over 500 square meters on the second floor of the museum.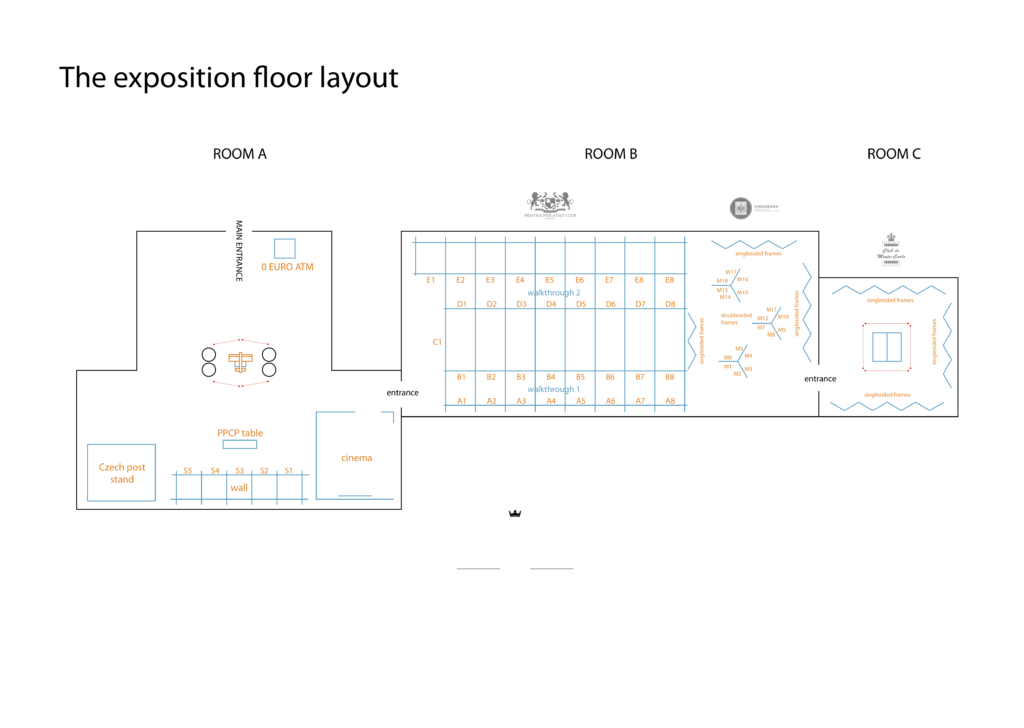 Right at the entrance, in Hall A, those interested can visit a large sales stand of the Czech Post which, among other things, also issues a series of commemorative stamps for the Biennale, as well as a PPCP information point and the video projection with a documentary on the history of philately. An ATM selling the EURO banknotes issued as part of the Biennale will also be installed there.
Philatelic and postal historical exhibits will be exhibited in Halls B and C in more than 20 large "3D" showcases with a size of 160 / 160 cm, in a larger number of smaller 3D showcases and in 50 new exhibition frames with an A0 PPCP format.
In Hall B we are also preparing the installation of a large project "500 Years of the Post Office in the Czech Lands". This exhibit is the largest collection of stamps and letters with a unifying context that has ever been exhibited in the history of Czech philately. It will consist of parts of the "gold" exhibits and collections by several leading members of the PPCP. A similar project entitled "Austria-Hungary – The European Great Power" will be presented by colleagues from Vienna's Vindobona Philatelic Club. Visitors can also find smaller thematic exhibits in Hall B, including e.g. "The First Stamps of the World", "The Rarest Postage Stamps of the Austrian Monarchy", "The Air Stamps from Our Territory", "Philipp von Ferrary", "London Exile Issues" and more.
The most important part of the exhibition will be dozens of individual rarities of international importance placed in separate frames in the part of Hall B and in Hall C. These stamps and letters, borrowed from the collections of members of the Prestige Philately Club Prague, Club de Monte Carlo and Vindobona, will be exhibited with related textual and pictorial material, i.e. in the new style of philatelic exhibitions understandable and attractive to the non-philatelic public and promoted by PPCP.
The list of exhibitors and the names of the exhibits will be published in the first half of September.