PPCP members can be personalities who are important for the present and the future of philately, especially for its prestigious aspect, from the Czech Republic or Slovakia, but also from other countries, as well as institutions. The number of Club members is limited to 50. This number will be achieved gradually, through careful selection. The acceptance criteria are set down in the Statutes. Emphasis is placed on the given member's potential to fulfil the PPCP objectives, both on behalf of the Club and on a personal level.
On 18 December 2018, the Postal Museum in Prague joined PPCP, which is an extraordinary cultural precedent – the connection and mutual support of civic and institutional cultural activity such as collecting in general. PPCP includes, among others, all our holders of the Large Gold and National Grand Prix awards from Praga 2018.
We believe that all PPCP members will be united by the awareness of the fact that membership in the Club is not a reward, but rather that it binds and summons everybody to further work for philately and for the raising of its importance. The purpose and objectives of PPCP are not fulfilled within the Club, as they lie outside the club, in the public space.
PPCP Committee
Chairman: JUDr. Tomáš Mádl / madl@ppcp.cz
Ing. Vít Vaníček / vanicek@ppcp.cz
Mgr. David Kopřiva / kopriva@ppcp.cz
RNDr. Pavol Lazar / lazar@ppcp.cz
Mgr. Jiří Střecha / strecha@ppcp.cz
Secretary of the Club
Šrobárova 2100/49, 130 00 Praha 3-Vinohrady
fenclova@ppcp.cz
tel: +420 226 255 258 / fax: +420 226 255 221 / mobil: +420 777 306 104
Club Membership Certificate
The basic sign of membership in PPCP is, besides the signature on the Charter, the Club Membership Certificate.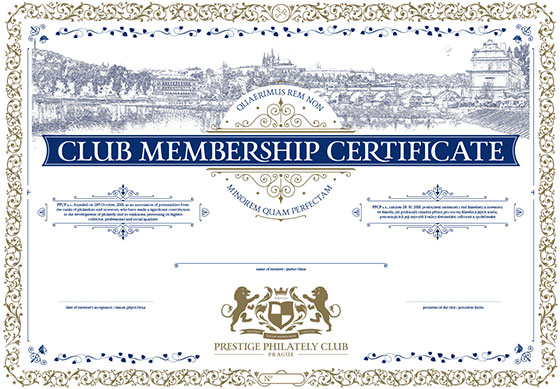 Applicants for Membership in PPCP
A person interested in membership in PPCP who was proposed by two proposers from the ranks of the Club members can apply for membership by submitting the completed Application Sheet to the address of the seat of PPCP.